Splitting Satellite High Frequencies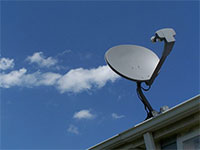 When Splitting the High Frequencies of Satellite TV Services to feed multiple Receivers, the Loss associated with the splitter may need to be compensated for with the use of an In-Line Satellite TV Drop Amplifier (Signal Booster) specific to this purpose and Frequency Range. Consider the need and review the Satellite TV Amplifiers section for an amplifier that would work for your situation. Most of these Satellite In-Line Amplifiers are line powered from the Satellite Receiver and will not, under most circumstances, require any externally coupled power supply. However, If the receiver doesn't inject DC power for use by LNB(F)'s, or the segment of cable you need to amplify doesn't have DC Voltage on the line at that point, and you need to install an In-Line Amplifier there, Then the LA-KIT could be used at that point to get power on that line!
The LA-KIT DC IN-Line Power Supply Amplifier Kit Includes everything you need and includes the power inserter that will pass all the required Frequencies from the LNB, cable TV and TV antenna signals.
TV Antenna Pre-amps will usually include a Power Supply and Inserter, if you need an Inserter/Power Supply Combo for this purpose, then the LA-KIT will do.
Most In-Line Cable TV amplifiers also come with the aforementioned accessories, but if you are missing them, then the LA-KIT will also fit the Bill.
Voltage Blocking
One quick note, if you need to block the DC voltage from passing on either side of the Amplifier, you will need to use a VBC or Voltage Blocking Coupler to block the DC voltage from passing to other devices and prevent damaging them!
Grounding Your System
Commensurate with Coaxial Cable TV Antenna and Satellite TV Power Inserter Installation, you want to Ground your Cable TV or HDTV Antenna Coaxial Cable System Outside before bringing the TV Cable Inside. This way, Lightning Strikes and Power Surges have an opportunity to arrest before reaching your Satellite Receiver and TV Set(s). We sell several different styles of grounding blocks, some with multiple ports, that will effectively convey this unwanted Electrical Energy to a Ground Rod via a Copper Ground Wire that you Install (not included). Consult your Local Building Code and NEC for guidance to Properly Grounding your HD TV Antenna, Satellite TV, Cable TV, WI-FI, Wireless Internet, Business Band, CB or Amateur Radio Antenna Installation.