Fiber Optic Cables
We carry several types of pre-terminated fiber optic patch cables for data networking and computer applications.
Multimode or Singlemode
Multimode fiber cables are typically used for short distances, have a relatively large core about 62.5 microns or larger in diameter and can provide bandwidth of up to 10 Gbit/s.
Single-mode fiber has a smaller light carrying core usually 8 to 10 microns in diameter.
Single-mode fiber is normally used for long distance and using a laser diode instead of an LED.
Current governing standard are set by The International Telecommunication Union and are documented as ITU-T G.651, "Characteristics of a 50/125 µm multimode graded index optical fiber cable" and ITU-T G.652, "Characteristics of a single-mode optical fiber cable".
Simplex or Duplex
A fiber optic cable can also be characterized as either a simplex or duplex. A simplex fiber cable consists of a single strand of glass or plastic fiber.
Simplex fiber optic cables consist of a single strand of fiber optical material. Simplex cables are used in applications that only require one-way data transfer or in systems that use methods like asynchronous or multiplex signaling. Simplex patch cables are available as singlemode or multimode fiber.
Duplex fiber optic patch cables are basically two Simplex cables side-by-side. They consist of Siamese fibers individually jacketed next to each other. Duplex cables are used in applications that need synchronous, bidirectional data transfers, meaning the system transmits and receives data at the same time. This two-way highway, significantly decrease the time it takes to transmit data. Duplex fiber optic patch cables are also available as singlemode or multimode fiber.
Terminating Connectors
Todays' fiber optic patch cables are terminated with a metal, plastic or ceramic ferrule. Ceramic is typically used because it has similar hardness to glass which made polishing easier. Plus glass fibers easily adhered to ceramic using epoxies. Virtually all connectors used today use the ceramic ferrule which is about 2.5 mm in diameter for the SC, ST and FC connectors and about 1.25 mm for the LC and MU style connectors.
Connector Types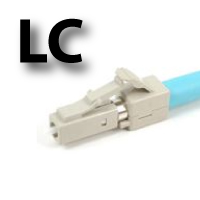 The LC connector produced by Lucent Technologies has a smaller ceramic ferrule which is about 1.25 mm in diameter half the size of the SC. The LC has a standard ceramic ferrule connector which is easily terminated with any adhesive, has good performance and is the connector of choice for most telecom and high speed data networks.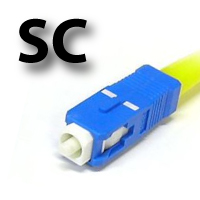 The SC connector or Subscriber Connector is a fiber-optic cable connector that uses a push-pull latching mechanism. For bi-directional transmission, two fiber cables and two SC connectors or a Dual SC is used.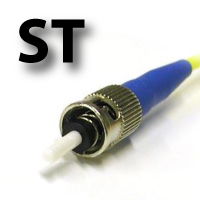 The ST connector or Straight Tip connector is a BNC style connector developed by AT&T. ST Connectors are just as common as the LC connector. They are about 2.5mm and have a keyed ferrule. ST Connectors are used both in short distance and in long transmission line applications. These connectors are spring-loaded, and are easily inserted and removed.
Jacketing Material
OFNR or Optical Fiber Nonconductive Riser is a fiber optic cable rating. OFNR rated PVC cable jackets contain only glass fibers with no copper conductive elements. OFNR is generally intended for vertical runs between floors or as patch cables in a fiber optic network.
OM3 Standard
OM3 or Optical Multimode 3 fiber optic cables have 50/125 Micron dimensions, are high bandwidth and ISO/IEC certified. OM3 rated fiber optic cables are IEEE 802.3ba compliant and rated for next-generation 40 and 100 Gb/s Ethernet.
Optical Patch Cables We Carry
All the fiber optic patch cables that we carry are Multimode, Duplex cables and have an OFNR PVC Jacket. The connector combinations we carry are
LC to LC OM1
LC to LC OM3
LC to SC OM1
LC to ST 62.5/125um OM1
ST to ST 62.5/125um OM1